5 Minutes for Mom Toy Giveway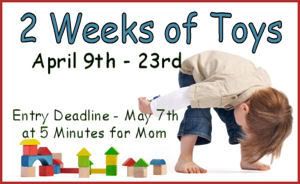 Did you notice the new banner on the left side with the big Toy Giveaway at 5 Minutes for Mom??? You have to head over and get entered into each toy giveaway you want to win! We already entered to win
The Rose Petal Cottage
,
Martian Matter Giveaway
,
bebePOD Plus
(I want the watermellon one!) and there are a whole lot more and more to come! So head over every day and check out what is up for giveaway! Make sure to visit the websites and check out these great products. Post the banner and links on your blog as well and if you don't blog, just tell your friends to check out the contests! It will be an early Christmas this year for the kids if you win! Click any of the links above to check it out or click on the banner on the left or the banner at the top!
Have a great weekend!!
~Dawn