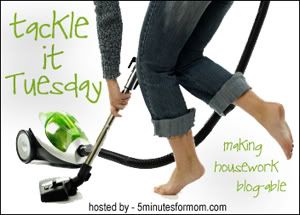 Well this week for
Tackle it Tuesday
, I tackled the kitchen!
Last week I took on me
and let me update you a bit on that. After saying I was going to take time for myself I ended up sick- sick with a fever, running nose, cough, headache, chills, and body aches. It was brutal the first few days. The night before that though I did get some family time and went to a baseball game. So needless to say with a cold I sure did get some rest. It didn't help much with getting my to do list done. But I knocked out a lot the past two days and I am quite happy to say I added the kitchen in and it looks great. Its small but it can get cluttered quick. Here are the before pictures of the stove, the pantry and the tupperware cupboard where my little Peanut insists on playing.
I could really use a shelf in the back of the tupperware cupboard to make it more organized but that will have to wait for another day. I decluttered and disinfected every part of that kitchen, as well as sweep and mop, do all the dishes and finish the laundry that was piled up. Now I am working on my desk and all my work stuff and finding some place for that.
My daughter and I worked on her room on Sunday going through all the clothes and organizing her toys. I didn't get the before pictures so I decided to skip on the after pictures. Things are coming along nicely. And as for my long to do list from last week.... well the stuff I got done is highlighted in pink. The rest is still needing to be done and has joined a new list for this week.
finishing up the laundry
organizing the hall closet
going through the girls' winter clothes, pulling out the summer clothes
finishing the new diaper cakes and posting to site
mailing out wholesale information,
booking appointments with local retailers
updating my blog
uploading all new towel cake line
mailing off cakes
finalizing location for charity silent auction this fall
following up with leads
setting up details for next Girls Night In
preparing house to be on the market
register for summer and fall classes
read a book
( I have a stack to the ceiling of fantastic books that I am just waiting for some time to curl up with and read!)
finding more sites to host product reviews
sell old car
book trip to Disneyland
The work never ends does it?!?!
What are you tackling this week? Leave a comment and let me know you stopped by!
Have you seen the post
all about me?
More personal posts to come daily!
Did you get time to enter some of our contests we are having?
Click here
to check them out!
Have a great week. Don't forget to head over and check out the other Tackle it Tuesday posts at
5 minutes for mom
. Have you seen their Mother Day giveaways? Just click on the banner to the left and head over to see what its all about! See you tomorrow for Wordless Wednesday!
~Dawn