I just wanted to share with you something that I am a sponsor of. This is an auction being held online to support Children's Hospital, put together by Olivia Omega Logan, owner of Baby Candy. Many of us participate in the Congrats from Colorado gift baskets that go out to different celebrities having babies and one recently went out to Kathy Sabine our local weather lady on 9 News. Now the same gift basket will be auctioned off to support Children's Hospital in Denver, CO. If you get some time check it out during May 7th-12th. There are a lot of awesome things in this giveaway- including Crocs and Bobby- our local companies!! I am so proud to be a part of something so good for the community. It's good to give back.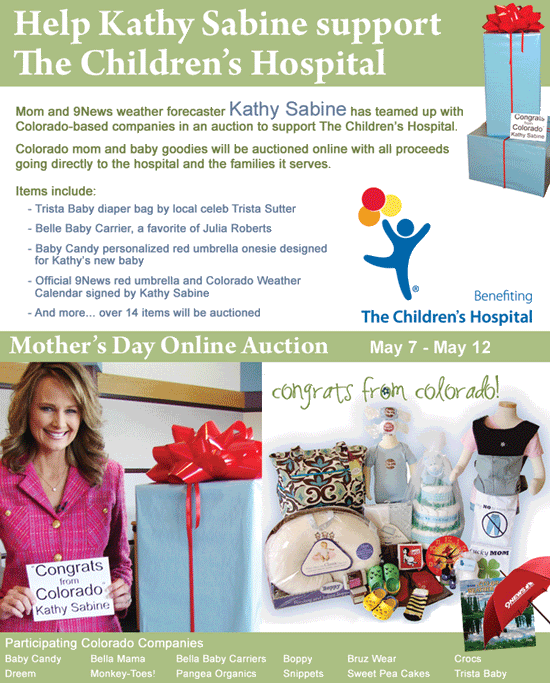 Just incase you can't see all the participating companies here they are and please feel free to click on the links and check out each of these mommy owned businesses!!
Baby Candy
Dreem
Bella Mama
Monkey-Toes
Belle Baby Carriers
Pangea Organics
Boppy
Snippets
Bruz wear
Sweet Pea Cakes, etc.
Crocs
Trista Baby
Please stop by the auction starting May 7th!
http://www.congratsfromcolorado.com/
~Dawn