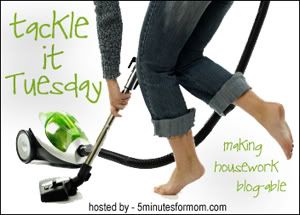 For this weeks Tackle it Tuesday, I took on a bit more than I can chew. First I decided I would work on the hall closet and get all the towels, sheets and everything else that is in there organized and functional.

Not only that but I decided that I was going to tackle my daughters room. I didn't want to just put everything away, but I wanted to sort through the clothes and get everything out that was too small, organize drawers, put up shelves, clean out the closet and so forth.


In the process of sorting. Notice the huge box full of school papers. We have to sort through and find the good ones that she can keep. She insists they are all good.
Here is a picture during this process, which we have been working on, off and on, for two days. We have some keep things, a trash bag, and a box of giveaway.
Here are the clothes I have to get boxed up now and moved out to the garage!

And here is Peanut dancing in the middle of the room while I am still trying to sort and move through all the "Stuff". Good grief Monkey has WAY TOO MUCH STUFF!
Now you might have noticed that there are no AFTER pictures posted. Well that is because we are still working on everything. After sorting through everything, going through all her drawers in the art stand, the dresser and book shelves, it has become a bigger project then I thought. We also put up the shelves, but the drill died. So that is charging right now. I am hoping to finish it up tomorrow and post up the after pictures Tuesday night or on Wednesday. So you will have to stop by again and see the finished look after everything! I am excited though. It is all looking great! And the girls think so too! Check out how happy they are relaxing on the bed while I am cleaning:
To see past Tackle it Tuesdays click here! And don't forget to see what else is being tackled over at 5 minutes for mom! Are you tackling something right now? Did you get a chance to relax over this three day weekend? Hope so! Stop by tomorrow for Wordless Wednesday, the AFTER pictures and giveaways this week!
~Dawn
*** UPDATE: to see the AFTER pictures click here!